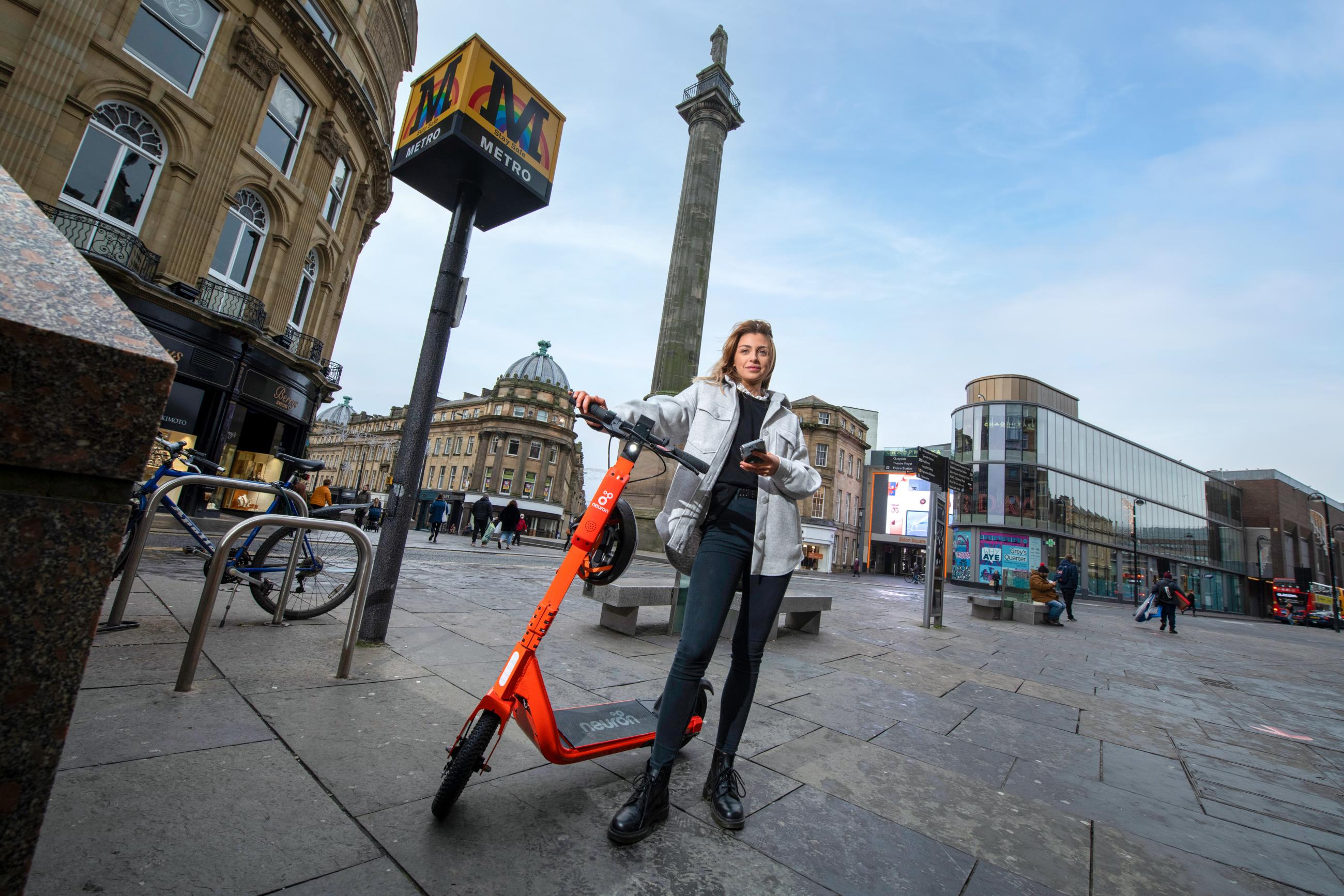 Newcastle City Council is now working with leading e-scooter operator Neuron Mobility to operate the trial, which has been backed by government as part of a national look at whether e-scooters could be legalised for use in the UK.
The 12-month trial will provide people with a safe, socially-distanced and environmentally-friendly transport option.
The trial was approved by the Government, following our successful bid in partnership with Neuron last year. The Department for Transport has called for the trial to be launched as quickly as possible so that the e-scooters can be offered to those needing to make essential journeys during Covid restrictions.
To kick off the trial – and to respond to the COVID-19 situation in the city – Neuron is providing free passes to NHS and Emergency Services staff during the national lockdown, redeemable through the rates and passes section of the Neuron app. During the first three months the company will also offer free rides for commuters between 5am to 9am daily. As the COVID-19 situation improves there will also be more offers including those for university students and people on low incomes.
The e-scooters are GPS-enabled and Neuron and Newcastle City Council will use Geofencing technology to control where they are ridden and parked, and how fast they can travel in certain areas by creating slow-zones, no-ride zones and no-parking zones. Each e-scooter will be fitted with a unique license plate for easy identification and to promote responsible use.
Neuron is deploying a dedicated safety team as part of the trial. They are armed with hospital-grade disinfectant to keep e-scooters and helmets completely clean and germ-free. Teams will be moving e-scooters to where they are needed most, assisting new riders with signing up on the app, and will deliver practical tips for safe riding.
Zachary Wang, CEO of Neuron Mobility, said: "We are delighted to partner with Newcastle City Council, e-scooters are a great socially-distanced transport option for those that really must travel. We've decided to provide free passes to NHS workers and also the Emergency Services. Also for the first three months there will be free commutes between 5-9am for those that have no option but to travel to work.
"Safety is our top priority, it dictates our e-scooter design and also the way we operate them. Our e-scooters are packed with cutting-edge safety features and our safety course and riding guidelines have been co-developed with the Royal Society for the Prevention of Accidents (RoSPA), the UK's leading accident prevention charity."
Neuron's next-generation N3 e-scooters, already proven across Australia and New Zealand -- and more recently in Slough in the UK -- have been purpose-built to a commercial grade, specifically for renting. They have visibly larger, 11.5" wheels and wider footplates than other e-scooters. They deliver the highest levels of safety, stability and rider experience, giving users an extra level of confidence as they travel around the city.
The e-scooters feature the world's first app-controlled Helmet Lock which secures a safety helmet to the e-scooter, electronically releasing it to use at the start of the booking. This will be popular with safety-conscious riders and will also reduce the number of missing and abandoned helmets.
As well as the Helmet Lock, Newcastle riders will benefit from voice guidance to educate and warn them of how to travel safely; a "Follow My Ride" feature which allows riders to share their trip with friends and family in real time for added safety and peace of mind; and a 999 emergency button which can tell if someone has had a fall, then help them call the emergency services.
The company will use a topple detection feature that alerts Neuron's operations team if an e-scooter has been left on its side so it can quickly be repositioned safely. There will also be a range of 'smart parking' initiatives to control and promote safe parking, many of which are a first for the UK.
Riders, who are over 18 and hold a full or provisional driving licence, are able to book and use the e-scooters through Neuron's user-friendly app, which can be downloaded from the App Store or Google Play and set up in a matter of minutes. Single trips will cost £1 to unlock the e-scooter and 18 pence per minute after that.

More frequent users have the option to purchase Neuron Passes, a subscription service, available in three-day (£15), weekly (£22), or monthly (£36) options. The packages will allow users to ride as many times as they want for up to 90 minutes per day for a fixed affordable price. This will result in no additional unlocking fees and savings of up to 90%.
Important Riding Rules:
Riders must be 18 years old and above
Must have provisional or full driving license
No riding on pavements
Helmets should be worn
Be aware and remove earphones
One rider per e-scooter
Keep a safe distance from pedestrians
Do not ride under the influence of alcohol or other substances
Keep both hands on the handlebars
Maintain a safe distance from other vehicles particularly when turning
Park responsibly and don't cause an obstruction
Check https://www.rideneuron.com/cities-newcastle/ for further information on pricing.
Source: Newcastle City Council, Press Office